Engineering & Technology
Welcome Message
Michael Holder, PE
Engineering and Technology Chair
The Engineering and Technology (E&T) Committee is committed to sharing and applying engineering and technology knowledge and advancing the application and practice in public works. This fulfills APWA's mission to develop and support those who plan, build, maintain, and improve our communities. The committee has a wealth of volunteers that assist with the achievement of this mission. Over the next year, the committee, with strong assistance from its Trending Technologies Subcommittee, will develop content to support the Trending Technologies for 2023 that will be informative and useful for both beginner and more experienced practitioners. The committee will house the content in APWA's Resource Center to allow on-demand access. If you are interested in joining our journey as a Knowledge Team member or Trending Technologies Subcommittee member, please the technical committee staff liaison at techcommittee@apwa.org.
Announcing the 2023 Top 5 Tech
Like college basketball brackets, APWA pitted 16 "team" technologies against each other and asked you to pick the winners. To learn more about the 2023 Top Trending Technologies in public works, check out this article in the APWA Reporter. If you are interested in joining a 2023 Top Tech Work Group, contact the technical committee staff liaison at techcommitee@apwa.org.
New Tech Box Released: Overview of Current Pavement Evaluation Options
Overview of Current Pavement Evaluation Options
The most critical component of effective pavement management is pavement evaluation. Roadway maintenance and rehabilitation decisions are significantly impacted by pavement condition evaluation surveys used in a pavement management system. Over the last two decades, incredible technological advances have transitioned pavement evaluation from subjective boots-on-the-ground surveys to more objective and efficient evaluation processes. These advancements continue to change as vendors offer new processes and services. This document will review the six main pavement evaluation methods and provide the pros and cons of each methodology.
Reading Construction Plans
Check out one of our most popular Click, Listen & Learn programs in the APWA Resource Center. This program is designed to help engineers and technicians that are new to the field be able to review construction plans accurately.
Advance Your Career in Construction Inspection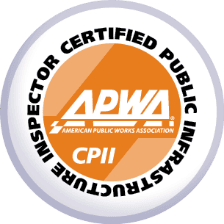 The Certified Public Infrastructure Inspector (CPII) certification is for individuals who inspect the construction of public infrastructure and facilities and other types of construction work and materials to ensure compliance with plans and specifications.
The APWA Construction Inspection Manual is designed for construction inspectors of various experience levels.
The Construction Inspection 201: Project Management eCourse is designed for individuals interested in building their project management skills as it applies to work in construction inspection.
Asset Management
Welcome Message
Kirstin Runberg Platt, GISP, PMP, ENV SP
Good asset management aims to understand the value the community desires from the public infrastructure and align the agency's finite resources toward maximizing that value. The Asset Management Committee is dedicated to delivering asset management education that assists agencies in meeting this goal for all asset classes. The APWA Asset Management Roadmap provides resources in support of our members' asset management journeys. The Roadmap is being expanded to make it the single resource for public agencies and the guide for all asset management-related education moving forward. If you would like to assist the Asset Management committee as we continue to work to provide valuable tools, support, and training, please contact Matt Harper at mharper@apwa.org to join the committee's Knowledge Team.
Resources
Asset Management Key Terms and Definitions
What is Asset Management?
Asset Management in a Nutshell
Asset Management Strategy