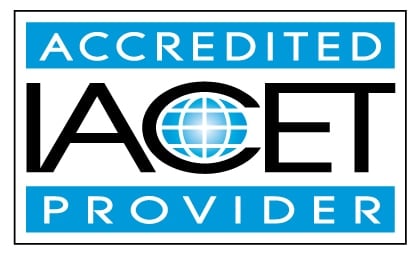 The Continuing Education Unit (CEU) is a nationally recognized method of quantifying the time spent in the classroom during professional development and training activities. Ten hours of instruction = 1.0 CEU. One hour of instruction = 0.1 CEU.
The Professional Development Hour (PDH) is a term established by the National Council of Examiners for Engineering and Surveying (NCEES) in their "Continuing Professional Competency Guidelines." In these guidelines, NCEES defines the relationship between CEUs and PDHs as: 0.1 CEU (1 hour of instruction) = 1 PDH; 1.0 CEU (10 hours of instruction) = 10 PDHs.
APWA is accredited by the International Association for Continuing Education & Training (IACET). APWA complies with the ANSI/IACET Standard which is recognized internationally as a standard of excellence for instructional practices. As a result of this accreditation APWA is authorized to issue the IACET CEU.
What Can CEUs or PDHs Do for You?
The primary purpose of the CEU is to provide a permanent record of the educational accomplishments of an individual who has completed significant non-credit educational and career enhancement experiences. CEUs are needed by many individuals to obtain or renew industry certifications or licenses. However, CEUs are not only limited to these professionals. CEUs are a great way to enhance one's professional portfolio as well. The process provides printable validation and acknowledgement of the extra learning sessions you are participating in outside of the normal work environment. This can help when you are preparing to move up the corporate ladder, ask for a raise, or simply grow your own personal knowledge of your industry.
CEUs from APWA Chapters
If an APWA-sponsored program has been approved for CEUs, request forms will be made available to participants at the event/activity. The request form must be validated by staff at the conclusion of the event/activity. (CEUs are only awarded to individuals who attend the entire event and may not be given when an individual leaves the event early.) Chapters may issue CEUs for their events if prior approval has been given by APWA Education & Credentialing team. If you are a representative of a chapter which would like to offer CEUs, please click on either the Workshop/Seminar or the Conference application form.
Need Assistance?
Email ceu@apwa.org for further assistance.