Your local chapter is the most immediate, easy, and cost-effective opportunity to connect and network with colleagues and to keep up-to-date on the latest public works technologies and management trends. Chapter membership is included in your annual APWA membership.
APWA's chapter and branch network is made up of more than 60 chapters and more than 90 branches across North America. Each chapter offers valuable resources and information on their individual websites. Chapter branches support an even more specific geographical area. Branch information can be found under the chapter's website.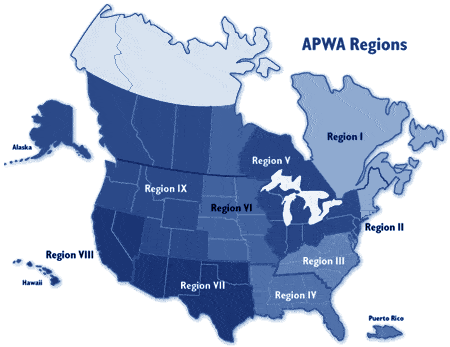 APWA Regions
APWA is divided into nine Regions across North America. A listing of the chapters associated with each region can be found here. Each region is  represented by a Regional Director on the APWA Board of Directors.
Chapter Events
Chapters and branches are hosting a wide variety of events all throughout North America. Access the APWA Event calendar to learn more about upcoming events in your area or region.
The Council of Chapters is comprised of one delegate from each APWA chapter. Council of Chapters members serve as a resource to the Board of Directors, APWA committees, and APWA staff, and support the APWA's mission in accordance with the association's bylaws and governance policies. Delegates also act as a conduit between chapters, regions, and APWA and assist in the dissemination of information to and from APWA members.
Providing tools for chapter leadership, Chapter Leader Resources provide access to tools, reports and templates for successfully managing and APWA chapter or branch. Questions can be submitted as easily as emailing chapterservices@apwa.org for assistance.