Welcome Message
Michelle Tetreault
Emergency Management Committee Chair
The Emergency Management Committee's mission is to provide APWA members with resources and a forum for exchanging and developing ideas, knowledge, and technologies for mitigating from, preparing for, responding to, and recovery from all hazards (manmade and natural disasters).
I encourage you to register for this month's Click, Listen & Learn Protecting Critical Infrastructure from Cyberattacks. We have an extraordinary panel of experts including Microsoft, the Cybersecurity Infrastructure Security Agency (CISA), and West Yost Associates that will help us to better identify and prepare for threats to our critical infrastructure.
In April, our committee was fortunate to tour National Oceanic Atmospheric Administration (NOAA) offices in College Park, Maryland. We discovered some useful links that will assist us in preparing for potential natural disasters:
Last year our team released a series of Natural Hazard Checklists that are becoming popular with our membership. The checklists were created by the Emergency Management Committee for agencies to prepare for, respond to, and recover from natural hazards. These checklists are fillable pdfs to assist public works agencies. The natural hazards include:
This year we are working on tabletop exercises to accompany these checklists that you will find useful to your agency. If you are interested in contributing to the work of the committee by joining the Emergency Management Knowledge Team, contact techcommittees@apwa.org
COMING OCTOBER 2023: Foundational Cybersecurity Concepts for Public Works Professionals
APWA is excited to announce a brand-new certificate program Foundational Cybersecurity Concepts for Public Works Professionals. This program is designed as an introductory level program for public works professionals to identify basic cybersecurity principles, and policies and procedures used for preventing and responding to a cybersecurity attack.
Click here to be notified when registration opens.
Emergency Management Resources
Public Works First Responder Resources
In November 2017, the American Public Works Association Board of Directors approved the adoption of a national "Public Works First Responder" symbol for use throughout North America to identify public works personnel and acknowledge their federally mandated role as first responders.
Emergency Management Public Policy Priority
Public works is critical in emergency planning, responding to, and recovering from infrastructure impacts from natural and man-made disasters.
Free Emergency Management Training for PW Professionals
The federal government provides several training opportunities for emergency management/homeland security training that are available to public works professionals. This presentation covers the most common training opportunities and provides participants with information on how to connect with these free training resources.
Incident Command System (ICS) Pocket Guide
Regardless of the size of the incident or the number of agencies responding, all incidents require a coordinated effort to ensure an effective response and efficient, safe use of resources. ICS was invented to achieve this coordination, and this Pocket Guide will help you understand and implement the vital components of ICS.
Certified Public Works Professional-Management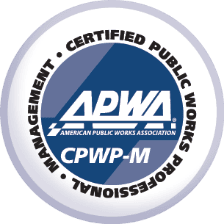 The Certified Public Works Professional-Management (CPWP-M) is for public works managers, superintendents, and supervisors ready for management positions.