Welcome Message
John Trujillo
Center for Sustainability Chair
Sustainability in public works today is as much about behavior change as it is about policy and procedure change. The APWA Center for Sustainability (C4S) believes public works can be at the forefront of positive change when it comes to sustainability. C4S creates education and increases awareness focused on building and maintaining infrastructure responsibly. C4S works across all technical areas identified by APWA to ensure sustainability efforts remain comprehensive. If you are passionate about sustainability in public works and are interested in joining our Knowledge Team, please contact the technical committee staff liaison at techcommitees@apwa.org.
Sustainability Resources
Social Equity Resources
What is green infrastructure? Find out with this informative toolbox created by the Water Resources Management Committee. Whether you are new to this area of public works or you want to help educate the residents of your community or governing body of your agency, this toolbox can help.
EPDs are Key to Concrete's Sustainable Future Blog
Environmental Product Declarations (EPDs) are a tool that allows agencies to measure compliance with climate change policies and set benchmarks for achieving climate change goals.
Exclusive Resource Center Access to the Most Popular PWX 2022 Sustainability Education Sessions—FREE in May! 
Career Resources
Certified Stormwater Manager (CSM)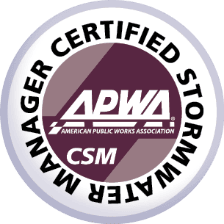 The purpose of the Stormwater Manager Certification is to promote excellence and commitment to public service by advancing the knowledge and practice of stormwater management to benefit the community, public agencies, and the profession.
For more information, contact certification@apwa.org.