By Gary Strack, PE, F.NSPE
Vice Chair APWA Engineering & Technology Committee
The momentum to convert all vehicles to electric power continues to increase and like the old adage, "one size doesn't fit everyone." You should do some research to make sure this technology is right for your agency. For example, a public works agency with 20 vehicles may need their vehicles to be flexible in multiple uses/areas more so than an agency with 100+ vehicles, which could affect vehicle selection over fuel type. The following considerations may be areas you will want to investigate as part of your research into determining if electric vehicles (EVs) are right for your agency:
Vehicle Cost
EVs are more expensive to purchase/lease than gas/diesel powered vehicles.
Level 2 charging stations are likely to cost $15,000-$20,000 per station in 2023 dollars depending on the location and power availability.
Depending on rates in your area and how much the vehicle is used, battery charging could run $20 per night for a full charge overnight.
A cost/benefit analysis to determine the long-term budget implications is important.
Maintenance
A maintenance-related question you should ask: Do your current public works maintenance technicians have training to maintain electric or hybrid vehicles? Additionally, evaluate the availability of replacement parts and how quickly they can be delivered to your shop.
Most EV systems are using 400-800 volts, which will require high voltage safety training for your staff. These electric systems need specialized training to perform any maintenance or service. More information on technician training and maintenance planning is available in the Technician Training and Maintenance Planning for an Electric Fleet Tech Box.
Environment
Battery materials are:

Expensive to mine
Environmental damage occurs during mining
Disposal is environmentally hazardous
Limited known quantity for supply
A fire hazard and fires are difficult to extinguish.
Performance
Climate impacts driving performance, with optimum battery performance occurring near 70° F.
Batteries are typically designed to last about 10 years with the last couple of years having declining power storage performance which will reduce their range.
Cold and hot temperatures reduce battery performance.
Driving range impacts due to temperature are shown in the chart below.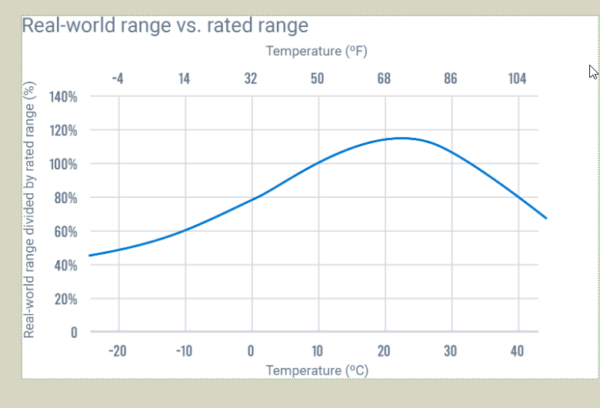 Federal Funding
Investigate potential federal grant programs to help offset the initial cost of the EV while understanding they seldom cover 100 percent of the cost. In addition, evaluate the availability of grant programs for replacement and fleet expansion vehicles since many of these grants are only for the initial purchase of the technology. Long-term conversion to EVs is likely to take more of the public agency budget than is currently allotted.
As I noted at the outset, EVs are not for everyone and will not meet everyone's desired carbon footprint reduction goal. When analyzing the carbon footprint facts, make sure to account for the manufacturing and end-of-life disposal impacts. Additional information on climate effects and EV charging is available in the APWA Top Tech Box including the City of Fort Wayne Case Study on "Electric Vehicle (EV) Charger Implementation." Additional references include:
https://www.fueleconomy.gov/feg/coldweather.shtml