By the Association for Unmanned Vehicle Systems International (AUVSI)

Drones, also known as unmanned aircraft systems (UAS), save time, money and even lives for public works agencies across the country. Drones can capture images and data in difficult-to-reach or dangerous places to make tasks such as inspections and mapping safer and more efficient.
If you are thinking about incorporating a drone into your operations, here are the top 10 things you need to know before you fly.
1.You Must Follow the FAA's "Part 107" Regulation
If you want to fly your drone for commercial or civil government purposes, you must follow Part 107 of the Federal Aviation Administration (FAA) regulations, also known as the Small UAS Rule. This rule went into effect on August 29, 2016. Under Part 107, to fly a drone you must be at least 16 years old, you must hold a remote pilot certificate or be under the direct supervision of someone with a remote pilot certificate, and you must complete a Transportation Security Administration (TSA) background check.
2.You Have to Pass a Knowledge Test
To receive a remote pilot certificate, you must pass a Knowledge Test. They are administered at FAA-approved Knowledge Testing Centers. More information about the Knowledge Test and the nearest testing location to you can be found on the FAA website.
3.Your Drone Must Weigh Less Than 55 Pounds

According to current FAA regulations, your drone must weigh less than 55 pounds to fly under Part 107. Heavier aircraft require specific permission from the FAA.
4.You Can Only Fly During Daylight Hours

As it stands, operations are only permitted during daylight hours. That means if it is after dark, you cannot fly.
5.You Can Only Fly Up to 400 Feet

The maximum flight altitude permitted by the FAA under Part 107 is 400 feet above ground level.
6.You Can Only Fly in Authorized Airspace

Drone pilots planning to fly under 400 feet in controlled airspace around airports must receive an airspace authorization from the FAA before they fly. The Low Altitude Authorization and Notification Capability (LAANC) is a collaboration between the FAA and the drone industry that provides near real-time authorization for Part 107 pilots and recreational flyers. LAANC is available at approximately 400 air traffic facilities covering about 600 airports.
7.You Must Always Operate a Drone Within Visual Line of Sight
When you are operating your drone, make sure it is always within your visual line of sight and, of course, below 400 feet.
8.You Must Register Your Drone with the FAA
Commercial and civil operators are required to register each of their drones with the FAA. The registration costs five dollars per aircraft and is valid for three years. Once you register your drone, you must label it with your registration number. More information on how to register your drone can be found on the FAA website.
9.You Can Fly Beyond the Rule with a Waiver
If you want to fly beyond what is allowed under Part 107, you must receive a waiver. A Part 107 waiver is an official document issued by the FAA which allows drone pilots to deviate from certain rules under Part 107 by demonstrating they can still fly safely using alternative methods. Some examples of operations that are subject to a waiver are flying from a moving vehicle, flying at night, flying beyond your ability to clearly determine your drone's orientation with unaided vision, flying multiple drones and flying over people.
10.Certification Sets You Apart from Other Drone Operators
Once you have your remote pilot certificate, you can set your career apart from others operating drones for public works by earning a Trusted Operator professional certification from the Association for Unmanned Vehicle Systems International (AUVSI). The AUVSI Trusted Operator Program (TOP) provides you with a higher level of demonstrated knowledge, flight proficiency, safety and risk management practices that will be valued by employers and customers, a competitive advantage when it comes to negotiating salaries/rates. To learn more about how to become an AUVSI TOP Operator, visit www.auvsi.org/topoperator.
Incorporating a drone into your operations can provide improved efficiency and safety and help your public works agency stand out from others. Know Before You Fly is an education campaign founded by AUVSI and the Academy of Model Aeronautics (AMA) in partnership with the FAA to educate prospective users about the safe and responsible drone operations. For more information on what you need to know before you fly, or for your agency to become an official supporter of the Know Before You Fly education campaign, visit www.knowbeforeyoufly.org.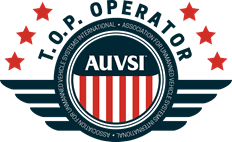 Tom McMahon | Senior VP of Advocacy and Government Relations
Association for Unmanned Vehicle Systems International