Welcome Message
Matt Villareal
Facilities and Grounds Management Committee Chair
Managing public facilities and grounds is not simply landscaping and custodial services. It provides a good first impression to build pride within a community and provides a safe space for residents, employees, business owners, and even visitors. More importantly, it is the management of visible, and sometimes historic, public assets. The Facilities and Grounds Management Committee creates education to make sure that members have the training and resources to provide safe and welcoming spaces for all. The Committee is responsible for creating and delivering the Facilities and Grounds Management Certificate Program this month, and we are proud to say it has broken registration records. If you have an interest in contributing to the Facilities and Grounds Management Knowledge Team, please contact technical committee staff liaisons at techcommittees@apwa.org
Facilities and Grounds Management Resources
This toolbox provides information on tree preservation and protection, design considerations for new trees, and the benefits of including trees in asset management systems.
Tree Protection & Preservation Publication
In order to have a sustainable built environment, it is imperative that existing trees be considered before any digging or construction starts. To protect trees and ensure that they are not damaged—or worse, destroyed during any construction or digging—there are myriad steps that can be taken to mitigate any risks. This pocket guide offers resources that can be consulted and gives a good overview of what needs to be considered in construction planning for trees to not only survive, but thrive.
Exclusive Resource Center Access to the Most Popular PWX 2022 Facilities and Grounds Management Education Sessions 
Switchyard Park Roving Reporter
Join Matt Harper as he interviews Cecil Penland and Dave Williams about the recent overhaul at Switchyard Park in Bloomington, Indiana.
Certified Public Fleet Professional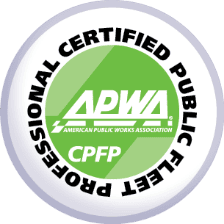 The new Certified Public Fleet Professional (CPFP) examination is finally here! Forty-three public fleet experts from across the United States and Canada spent over 1,000 volunteer hours to identify the critical knowledge, skills, and abilities crucial to public fleet management; develop and vet over 300 new test questions; and review and standardize the examination.
The CPFP tests an individual's knowledge, skill, and ability to adequately manage a variety of municipal assets, personnel, and ancillary operational assets and services, such as fueling, centralized parts operation, emergency management, hazmat handling, safety situations, and outside vendor relationships.
For more information, contact certification@apwa.org.