Gary David Browning
Operations Administrator, CPM
City of Dublin, Ohio
With winter season looming all transportation authorities responsible for snow and ice response are beginning to ready their winter fleets as well as resources. Each year provides its new challenges in light of making adjustments to the lessons that were learned in previous years. I would like to share a lesson that we learned and a tool that has saved our salt brine manufacturing and application systems!
Have you ever experienced purchasing less than superior salt for your salt barns? Salt containing debris, contaminates or other trace aggregates that can damage equipment? If you have, you are aware of the damage this can cause to your manufacturing and application systems. This debris cycles through the brine pumps, deposits into the storage tanks and then pumped into the trucks, leaving the wetting system clogged and inoperable. This causes increased downtime and limited ability for salt to perform effectively in decreasing temperatures. Our community experienced this problem firsthand and we were frustrated. After much fleet turmoil and personal research no one seemed to have a definite answer! Previous ideas from vendors included more frequent cleaning of manufacturing equipment, more selective observations of salt added to the brine maker, and emptying the storage tanks to vacuum out debris. These ideas were plausible; however, none would prevent the issue from continuing.
I continued my research and began thinking of remedies outside of snow and ice application systems. I began looking at agricultural and industrial operations. My research lead me to learning about the "Hydrocyclone Separator."
What is a Hydrocyclone Separator and how does it work?
Hydrocyclone Separators, known as sand separators or centrifugal filters, are mainly used for the removal of particles such as sand and other solids from the irrigation water. The Hydrocyclone Separators are mounted in a vertical position. The liquid enters through the side inlet and forced downward producing a centrifugal movement. This centrifugal action forces heavy particles downward in a spiral motion to a separation chamber. The particles collect in this separation chamber and are purged from the system. The filtered liquid is then drawn through the separator's outlet to its intended use.
After discovering this tool, I wondered if it would benefit our existing salt brine manufacturing and application. I decided it was worth a try!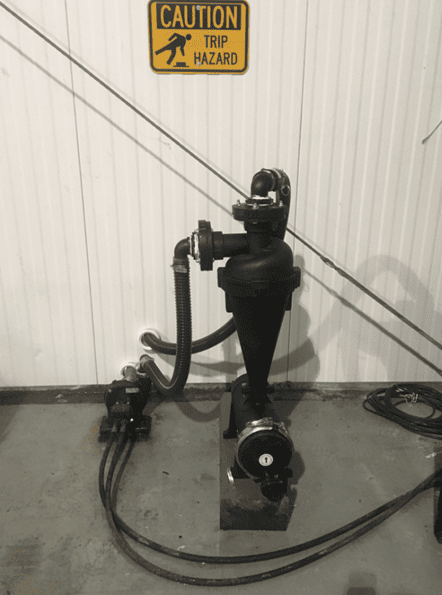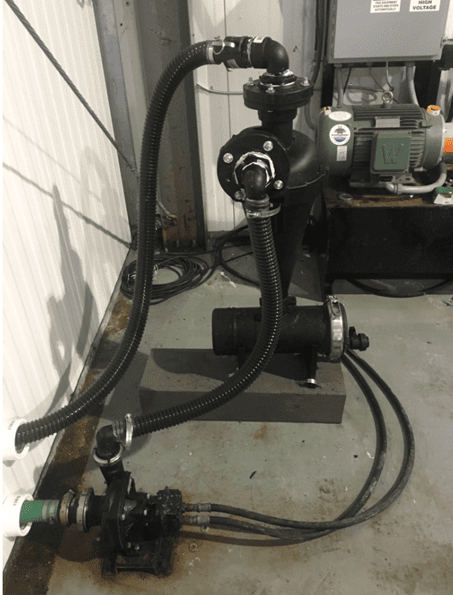 Our community purchased one 3" Hydrocyclone Separator. We chose to install our unit on the truck-fill side of our storage tanks. While this would not prevent new debris from entering the storage tanks it would prevent all debris from entering the onboard truck brine system. Our first year was a huge success! We experienced no pre-wetting system clogs due to debris or trapped aggregates as in years past. We are now entering our third year with the original Hydrocyclone Separator unit. We could not be more pleased with this discovery. I have included pictures of the unit as well as purged debris from the system.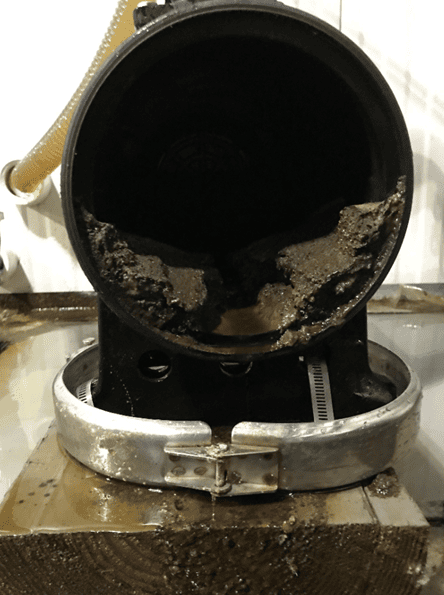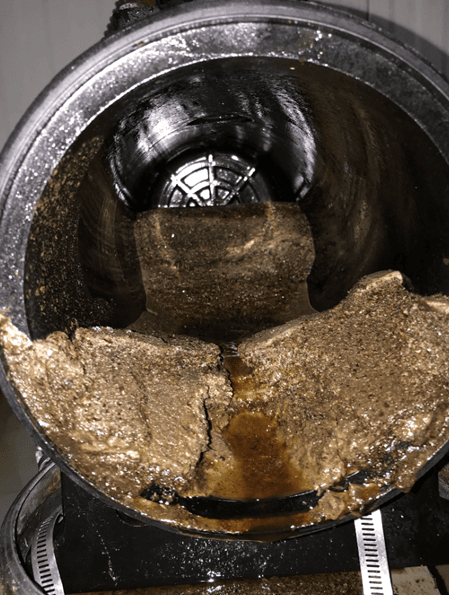 I hope this information will assist your efforts to provide safe and superior services to your community. Please reach out to me at gbrowning@dublin.oh.us with any questions.
Stay warm and have a safe winter!