Welcome Message
Caroline Barlow, PE, Committee Chair
APWA's Utilities and Public Rights-of-Way Committee (UPROW) works to identify new resources, state-of-the-art technology, and innovative approaches to assist in the development of policy and application of best practices for the management of utilities and public rights-of-way.
Within the committee, the UPROW Knowledge Team is a vital part of ensuring APWA keeps its members up to date. If you're passionate about utilities or rights-of-way, join the Team, and contribute to APWA on a national level. Your efforts will assist the committee in developing timely educational programs and resources. For more information, contact the technical committee staff liaison at techcommittees@apwa.org.
Learn more from Caroline Barlow in the introductory video below:
8/11 Day
August 11 (8/11) serves as a natural reminder for contractors and residents to contact 811 to have underground utility lines marked before beginning any digging project. Every few minutes, an underground utility line is damaged because someone decided to dig without first contacting 811.
Check out the 811 Day Toolkit from Common Ground Alliance (CGA) with free resources you can use to share the safe digging message in awareness campaigns.
Focus on APWA Partners
Common Ground Alliance (CGA) is a member-driven association of nearly 1,800 individuals and 250 member companies in every facet of the underground utility industry. CGA is committed to saving lives and preventing damage to underground infrastructure by promoting effective damage prevention practices. Bob Freudenthal currently represents APWA as the public works stakeholder on the board of directors and serves as vice chair.
Trending Technologies
Keep up with the latest and greatest #trendingtech in public works with APWA's Tech Box, 5G/Small Cell State of the Technology.
Policymaker Primer: Public Right of Way & Broadband Deployment
What are the top 10 things you should know about broadband/small cell deployment and public works? Find out by downloading the primer.
Resource Center
FREE Utilities and Public Rights-of-Way (UPROW) resources are available in APWA's Resource Center from August 1–31, 2022.
Career Resources
Many agencies are struggling to attract and maintain a full workforce. The Shaping the World of Public Works Career Chart is a great resource highlighting public works positions and their requirements—whether they require a high school diploma or a graduate degree. Make sure to check out the 11 popular career options under public rights-of-way.
Just entering the public works industry or wanting to further your professional development? The Principles of Right-of-Way Management eCourse provides practical advice on how to best maintain municipal streets and dives into best practices and emerging trends relating to right-of-way management.
Inspectors: Do you inspect utilities in the right-of-way? If so, you may be interested in the following career resources: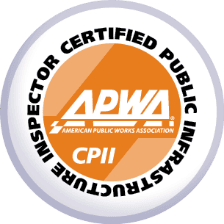 Certified Public Infrastructure Inspector (CPII) is for individuals that inspect the construction of public infrastructure, facilities, and other types of construction work and materials to ensure compliance with plans and specifications.
Construction Inspection Manual is designed for construction inspectors of various experience levels. The Construction Inspection Manual includes all facets of public infrastructure inspection, including the roles and responsibilities of an inspector, pre-construction planning, documentation, communication risk management and legal issues, scheduling, and project close-out.
Construction Inspection 201: Project Management eCourse is designed for individuals interested in building their project management skills—as it applies to work performed in the construction inspection profession.
Accreditation Focus on Utilities and Public Rights-of-Way
The Public Works Management Practices Manual describes the basic criteria and procedures necessary to perform as a full-service public works agency and provides the framework for an agency's self-assessment and accreditation. Of the many concepts addressed in the manual, you'll learn more about utilities and rights-of-way.
For instance, check out the APWA Uniform Color Code as a resource for addressing Practice 16.7: Utility Marking Guidelines and Color Code.